Mobile phones are ruining gigs
Laura Foster lets rip at those who would rather watch live music through the camera on their phone...
Iron Maiden's Bruce Dickinson has caused a bit of a stir for brilliantly calling a 'fan' at one of his gigs a w***er.
Because this fan was unable to lift his eyes from his phone, caught as he was in a scintillating text conversation with someone infinitely more important than enjoying the band he'd paid to come and see.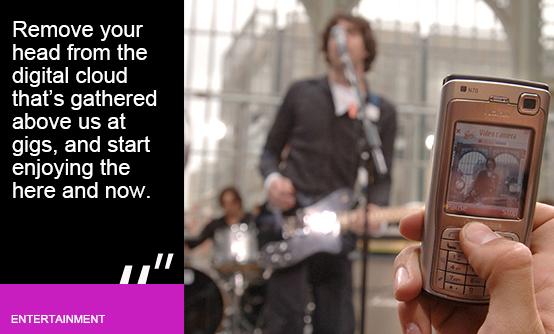 For those of you who have missed it, Bruce's exact words – caught on video by another fan – were: "Ah, for f***'s sake, the guy with the bald head and the white shirt, you've been texting for the last f***ing three songs. You're a w***er!"


Bruce Dickinson, I applaud you. People who use their mobile phones in gigs are w***ers.


One of the scourges of gig-going in our time is the mobile phone. It's a huge blight on the live music landscape that needs to be removed. If people don't have their eyes down, texting a friend about how amazing it is to be there rather than enjoying the performance, then they're filming the whole show on the bloody thing.


It's virtually impossible to look at any stage now without your view being ruined by a sea of arms holding their mobile phones aloft, the screens blinking back a blurry view of what you could enjoy by simply standing and watching the show.


Footage and photos are often shaky, blurry, wobbly and distorted anyway. These amateur snappers often end up spending the whole gig examining their results, deleting their disappointing results, then futilely raising their arms to try again. 


Why are so many keen on taking rubbish photos and footage? To show their friends how much fun they're supposedly having (taking said pictures) by uploading them onto Facebook and Twitter.

Concentrate on the enjoyment of the show rather than boosting your social standing, people!


So is walking away from a gig with a phone full of dodgy pics and films really better than having a whole heap of memories locked in your head instead? No, it's not.


Ian Brown took particular umbrage with this thoroughly modern phenomenon at The Stone Roses' surprise warm-up gig in Warrington in May.

He completely hit the nail on the head when he said: "If you put your cameras down you might be able to live in the moment. You have a memory there of something you've never lived."
So come on, music fans, remove your head from the digital cloud that's gathered above us at gigs, and start enjoying the here and now. I'll guarantee you have a much better time. 

Laura Foster is a social commentator and music journalist who has written for NME, Q Magazine, Dazed & Confused and more. You can follow her on Twitter @laufoster


DO YOU THINK MOBILE PHONES ARE RUINING THE LIVE MUSIC EXPERIENCE? LEAVE YOUR COMMENTS BELOW. JOIN THE DEBATE ON TWITTER WITH THE HASHTAG #SOCIALVOICES


DO YOU WANT TO JOIN #SOCIALVOICES? WE'RE LOOKING FOR NEW WRITERS
Welcome to #socialvoices. This is the home of sharp writing, opinion and social debate on MSN. Jump into the comments, tweet us with the hashtag. Join in.

Are you looking forward to another Robbie Williams instalment?
Thanks for being one of the first people to vote. Results will be available soon. Check for results
Total Responses: 538
Not scientifically valid. Results are updated every minute.