Why the social media hate has to stop
With Zayn Malik leaving Twitter and his girlfriend Perrie Edward receiving death threats, Laura Foster argues the online abuse of young pop stars has gone too far...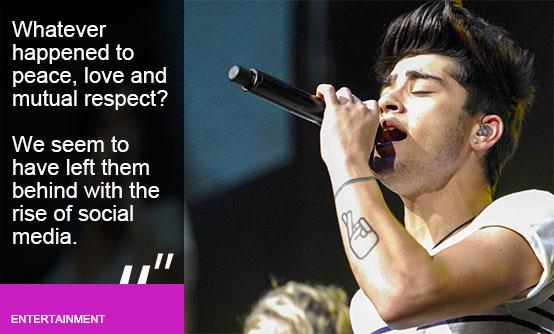 It seems that Twitter can't stay out of the headlines at the moment. This week it's because One Direction heartthrob Zayn Malik has quit the social networking site, having got sick and tired of the abuse he's receiving over his relationship with Little Mix's Perrie Edwards, with trolls accusing them of faking it.
The 19-year-old said: "The reason i don't tweet as much as i use to, is because I'm sick of all the useless opinions and hate that I get daily goodbye twitter.
"Fans that have something nice to say can tweet me on the one direction account."
You can't help but feel sorry for Malik, and Edwards, who deleted her own account in May following death threats. Yes, let me repeat that: death threats. Get a grip, people of the Twittersphere! Don't you realise you can go to jail for such despicable actions?
This increase in vicious bullying – because that's what it is – is part of a wider theme of people behaving disgracefully towards one another in modern society. Whatever happened to peace, love and mutual respect? We seem to have left them behind with the rise of social media.
A wolfish and misguided pack of predators increasingly prowl Twitter, looking for any opportunity to attack celebrities who are merely trying to engage with the people, us mere mortals, who show them interest.
It's a privilege to have such access to stars, where you can tweet them directly in the hope that they'll reply – a much more direct way than posting off fan mail, which is what you used to have to do all those moons ago.
And this is a privilege which shouldn't be abused. 
Now, let's get something straight, 1D fans - if that's what you really are. Surely someone who is a fan wants the object of their affection to be happy, and to wish them well?  What do you actually achieve from abusing someone so viciously, hidden behind a computer screen or mobile phone?
You're not actually achieving anything practical by making the band's girlfriends' lives a misery. Because even if they do split up, the boys will only eventually find someone else. 


And – brace yourselves for this – it won't be you. It'll be another glamorous pop star/actress/model instead.
So get a grip, and bite your lip.
As the old adage goes, if you haven't got anything nice to say, don't say anything at all.

Laura Foster is a social commentator and music journalist who has written for NME, Q Magazine, Dazed & Confused and more. You can follow her on Twitter @laufoster

DID YOU THINK PEOPLE ABUSING POP STARS ON SOCIAL MEDIA HAS GONE TOO FAR? OR DO YOU THINK IT'S PART OF THE JOB TO ACCEPT IT? LEAVE YOUR COMMENTS BELOW. JOIN THE DEBATE ON TWITTER WITH THE HASHTAG #SOCIALVOICES

DO YOU WANT TO JOIN #SOCIALVOICES? WE'RE LOOKING FOR NEW WRITERS
Welcome to #socialvoices. This is the home of sharp writing, opinion and social debate on MSN. Jump into the comments, tweet us with the hashtag. Join in.

Are you looking forward to another Robbie Williams instalment?
Thanks for being one of the first people to vote. Results will be available soon. Check for results
Total Responses: 538
Not scientifically valid. Results are updated every minute.