I won't be sad to see the back of Amy Pond
Hilary Wardle on why Doctor Who's most recent companion didn't cut the mustard...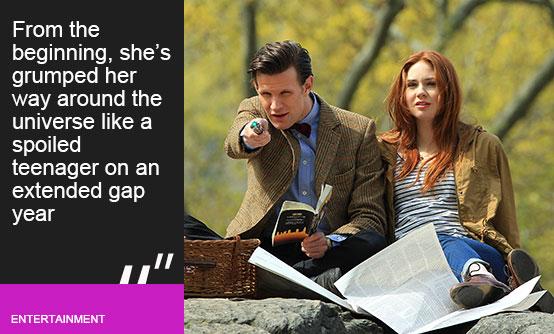 The Doctor and his longstanding companions Amy Pond and Rory Williams parted company in The Angels Take Manhattan, an obviously emotional episode.
Rory will be missed: any man who regularly dressed as a Roman centurion, often for no reason, will always have my vote. But Amy? Who cares? She's possibly the worst Doctor Who companion since the series returned in 2005.
Amy Pond's predecessor Donna was fantastic: confident, bolshy and outspoken. She took everything in her stride and was also kind and thoughtful. She challenged decisions she didn't agree with, but also listened to other points of view instead of shouting her own opinion at people and then sulking.
Not so Amy Pond. From the beginning, she's grumped her way around the universe like a spoiled teenager on an extended gap year, glaring at galaxies and complaining about the weather.
Don't get me wrong: Karen Gillan is a great actress, but her character's constant bad temper and inability to follow simple instructions (such as, 'don't lock yourself in a room with a Weeping Angel') was incredibly irritating.
Amy was regularly described by other cast members (and the media) as 'feisty' - a word that's as patronising as it is redundant. Are men ever described as 'feisty'? No. They're brave, bold or fearless. Feisty is up there with 'scrappy' and 'kick-ass' in the bumper book of words used to belittle female assertiveness.
On TV, 'feisty' tends to be applied to attractive, tetchy women who regularly kick up a fuss, but are still happy to sit back and let men take charge if the situation changes.
Amy is 'feisty' up until the point she's kidnapped by Cybermen, or eye-patch wearing matrons who want to steal her baby, or haunted dolls, or vampires. At this point, she turns into a traditional damsel in distress, waiting for the Doctor or Rory – invariably dressed as a Roman - to rescue her.

She's Penelope Pitstop - with PMT.
Speaking of Rory, Amy's treatment of him is probably my number one reason for disliking her. First she abandoned him completely, throwing herself at the Doctor with about as much charm and grace as a drunk aunt at a wedding. She wouldn't marry Rory until he proved his worth by guarding the Pandorica; a giant cube she was frozen inside of for 1,000 years.
Sorry, but there's no way she was worth the effort. Even after Rory wasted several of the most interesting periods in history protecting her prison-cube, she continued to gripe at him.
He'd have been much better off leaving her for a real woman like Boudicca or Cleopatra.
I bet no one has ever dared describe them as 'feisty'.
Yes, Amy ultimately proved her love by choosing to be zapped by a Weeping Angel so she could follow Rory back to 1938 and age alongside him, but it took a long time for her to get to that point. I wouldn't have been surprised if she'd just shrugged, crossed Rory's name off her Christmas card list and jumped back into the TARDIS for another adventure with The Doctor.
Let's hope the new companion - Emmerdale's Jenna-Louise Coleman, who played Oswin in the series opener - is a lot nicer. Although to be fair, that isn't saying much. If she manages to go an entire episode without glowering at the Doctor or being incredibly rude to someone who loves her, she'll have nailed it.

Hilary Wardle (@Hilary_W) is the editor of TV Jam and also writes for a number of other publications.
WILL YOU BE GLAD TO SEE THE BACK OF AMY POND? LEAVE YOUR COMMENTS BELOW
JOIN THE DEBATE ON TWITTER WITH THE HASHTAG #SOCIALVOICES
DO YOU WANT TO JOIN #SOCIALVOICES? WE'RE LOOKING FOR NEW WRITERS

Welcome to #socialvoices. This is the home of sharp writing, opinion and social debate on MSN. Jump into the comments, tweet us with the hashtag. Join in.

Are you looking forward to another Robbie Williams instalment?
Thanks for being one of the first people to vote. Results will be available soon. Check for results
Total Responses: 538
Not scientifically valid. Results are updated every minute.