Oh na na, you're so vain Rihanna – maybe it's time to give it a rest?
Dom Bradbury on why he's ready to give up on over-exposed singer Rihanna…
A reaction to the controversial new picture Rihanna has posted on Twitter/Instagram of a stripper between her legs: has the extroverted star gone too far this time? The man behind AngryBritain.com investigates...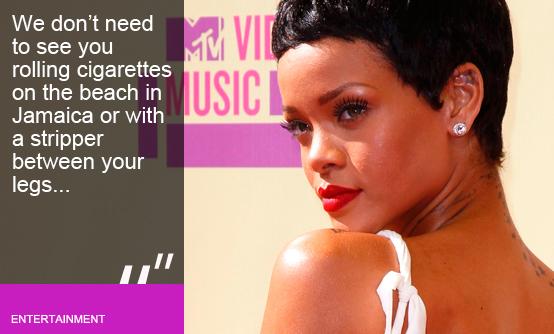 In this age of mummy porn, duct tape and cable ties flying off the shelves of B&Q faster than copies of Fifty Shades of Grey are being downloaded from Amazon, I'm guessing that most couples' pillow talk has got a lot more interesting recently.
Middle-aged men across the UK are sticking their wives to the wallpaper and discussing their wildest and most intimate fantasies – the bedrooms of suburbia have been liberated. I've always had a 'celebrity pass' myself: should a certain female celebrity show up on my doorstep at 1:30am, drunk and 'available' it's perfectly ok for me to take advantage with no consequences. It's only right and fair that any girlfriend has one too, but frankly the chances of Brad Pitt ever putting in an appearance in a sleepy Kentish village are minimal, so it's never really been a worry.
"Today, here on MSN's #socialvoices, I'm sad to announce that I don't think I want Rihanna to stand under my umbrella anymore..."
The main rule of the 'celebrity pass' is that you're only allowed one 'celebrity pass' at any one time, but it can be changed as often as you see fit as long as you announce the change to your partner. Since 2005 a brazen, beautiful, big-bottomed Bajan singer has made frequent re-entries into my list – Rihanna.
Today here on MSN's #socialvoices I'm sad to announce that I don't think I want Rihanna to stand under my umbrella anymore. She has recently taken to Twitter to post a pic of her with a stripper between her thighs at a gentlemen's club, called Perfections in New York.
We all know that alcohol, camera phones and social media can be a terrifying combination but the cynic in me can't help but think that this was basically a huge attention-seeking exercise.
Celebrities by their very nature love the limelight, but it's not exactly as if the lioness with ever-changing hair has disappeared from public view recently. Her 'will-she-wont-she-g​et-back-together-wit​h-woman-beater-Chris​-Brown?' saga has been filling the pages of the Daily Mail and Heat for months and, frankly, it's boring. Either get on with it and undoubtedly live to regret it, or don't. We really don't care anymore.
"Why not get back to doing what you do best, which is mostly strutting your X-rated stuff pre-watershed on the X Factor..."
And we really don't care about her endless self-obsessed, attention seeking and obviously shocking pictures anymore. She's looking a tad, shall we say, desperate?
Why not get back to doing what you do best, which is mostly strutting your X-rated stuff pre-watershed on the X Factor while belting out three minutes of pure pop perfection, showing the talentless wannabes how it should be done?
They put themselves through twelve weeks of humiliation at the hands of the great British public because they want to be like you. They don't need to see you rolling those cigarettes on the beach in Jamaica or with a stripper between your legs.
There's still a space on my 'celebrity pass' list with your name on it if you can turn it around. I'll bring the duct tape; you bring the S&M.
Dom Bradbury is the most miserable man on the internet and the mystery face behind AngryBritain.com. Self-declared Twitterati powered by bad reality shows, his @AngryBritain account quietly waits and watches for celebrities, politicians and companies to mess up before pouncing on them like Harry Styles on a pensioner.

GET INVOLVED: SHOULD RIHANNA GIVE IT A REST AND STOP POSTING PICTURES ON SOCIAL MEDIA, LIKE HER RECENT STRIPPER IMAGE? JOIN THE DEBATE ON TWITTER #SOCIAL VOICES OR LEAVE YOUR COMMENTS IN THE BOX BELOW.
Welcome to #socialvoices. This is the home of sharp writing, opinion and social debate on MSN. Jump into the comments, tweet us with the hashtag. Join in.

Are you looking forward to another Robbie Williams instalment?
Thanks for being one of the first people to vote. Results will be available soon. Check for results
Total Responses: 538
Not scientifically valid. Results are updated every minute.