Why TV talent shows are dead
Hilary Wardle looks at why the television talent show genre is in its final days.
With the cancellation of  Britain's Got Talent tour, and The Voice's being axed, Hilary Wardle argues why the television talent show is dead.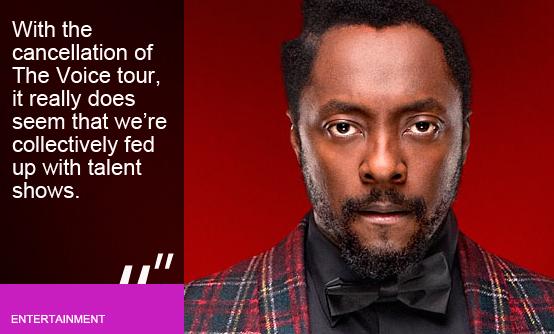 With the announcement yesterday that The Voice UK tour has been cancelled due to lack of interest, you really have to wonder how much more blood producers can squeeze out of the telly talent show stone.


After all, Pop Idol- the first of the new wave of singing competitions - launched in 2001. That's 11 years ago. It was followed by The X Factor, Britain's Got Talent and what feels like about a hundred How Do You Solve A Problem Like Maria/Fagin/Mary Poppins style programmes headed up by the nation's favourite lizard lookalike Andrew Lloyd Webber. 


       "If Tom Jones can't keep the nation's interest, surely nothing can"
Can there really be any more talent left to find? Surely by now anyone on this small island with an ounce of it has been auditioned, grilled, sent to boot camp, made to jump through hoops (quite literally in the case of some of the Britain's Got Talent animal auditionees) and offered a recording deal/some Winalot at the end.


The Voice was a commendable attempt to revive this increasingly tired genre and focus solely on real musical skill by bringing in pop heavyweights as the judges. It seemed destined for success, but instead it's gone downhill faster than the Euro.


Viewing figures, for instance, fell steadily during the series run; winner Leanne Mitchell's first single has failed to make an impression on the charts and now, with the cancellation of the tour, it really does seem that we're collectively fed up with talent shows.


       "TV bosses should just add a telephone voting round to next year's Crufts"
After all, if appointing Tom Jones as a judge can't keep the nation's interest, surely nothing can. He's effectively the music world's Yoda, dispensing constant wisdom from his mahogany-coloured face. If people can't even be bothered to tune in to watch him, it's clear the entire genre is on life support and just waiting for someone to flip the switch.


Don't believe me? Another indisputable sign that talent shows are undergoing their own mini-apocalypse is the fact that we've just appointed a dog as the winner of Britain's Got Talent. Think about it. A dog: we're clearly not taking our voting responsibilities seriously any more.


Next year's instalment will probably be won by a freshly-painted wall. Move over Tom Jones - maybe dogs are the way forward? Instead of coming up with yet another version of The X Factor, TV bosses should just add a telephone voting round to next year's Crufts. It'd save everyone a lot of trouble and we'd never have to hear a butchered version of Since You've Been Gone by Kelly Clarkson ever again.

Hilary Wardle (@Hilary_W) is the editor of TV Jam and also writes for a number of other publications.
DO YOU THINK TV TALENT SHOWS ARE DEAD? LEAVE YOUR COMMENTS BELOW
JOIN THE DEBATE ON TWITTER WITH THE HASHTAG #SOCIALVOICES
DO YOU WANT TO JOIN #SOCIALVOICES? WE'RE LOOKING FOR NEW WRITERS
Welcome to #socialvoices. This is the home of sharp writing, opinion and social debate on MSN. Jump into the comments, tweet us with the hashtag. Join in.

Are you looking forward to another Robbie Williams instalment?
Thanks for being one of the first people to vote. Results will be available soon. Check for results
Total Responses: 538
Not scientifically valid. Results are updated every minute.