The Apprentice needs a grumpy, cantankerous, joyless old sod. The Apprentice needs Lord Sugar.
Piers Morgan has suggested on Twitter that the entrepreneur should be replaced in the TV boardroom by fearsome adviser Claude Littner. But Adam Postans insists the show just wouldn't be the same without him.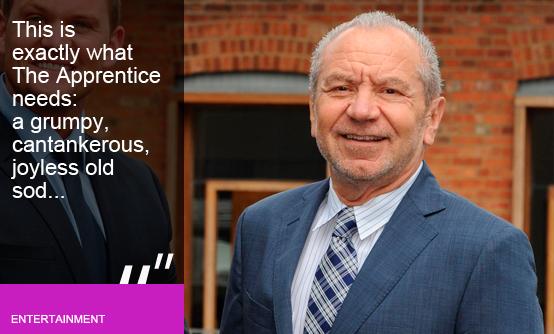 Let me lay my cards on the table. I have a problem with Lord Sugar.
He's a grumpy, cantankerous, joyless old sod who, during brief moments on Twitter when he's not plugging his own book, is beating his chest, swatting off negative comments from followers like flies and squabbling with Piers Morgan, like kids in the playground, over who has the biggest, erm, TV ratings.
It turns out, however, that the feeling's mutual. Lord Sugar has a problem with me.

He has blocked me on Twitter, back on Remembrance Day, 2010, when the Amstrad mogul twice urged everyone, during the two-minute silence, to buy his bladdy autobiography.
Truth is it's actually like a badge of honour to be blocked by the grumpy, cantankerous, joyless old sod

In hindsight, he obviously didn't intend to post them at the precise moment the fallen were being honoured, but I told him, in no uncertain terms, what I thought and he took exception, and up went the Twitter wall.
Truth is it's actually like a badge of honour to be blocked by the grumpy, cantankerous, joyless old sod who is, I'm assured, still banging on about his book and feuding with Piers Morgan.

Those two have been playfully at each other's throats since the former Daily Mirror editor was the celebrity fired from a Comic Relief edition of The Apprentice five years ago.

You'd probably imagine, then, that when Morgan tweeted during Sunday night's final of the latest series that inquisitor-from-hell​ Claude Littner should take over the hot seat in the TV boardroom, I would immediately back this call for Sugar to quit.

After all, many others did, and it wasn't long before the hashtag #BossClaude started trending.

Littner did, indeed, play a blinder in the final's interviews round, ripping the four remaining candidates to shreds.
Maybe Piers Morgan is right... perhaps it is time for a change at the helm...

He told Ricky Martin his CV contained "the most crass, obnoxious, infantile personal statement" he's ever read before calling him an "arrogant fool", left Nick Holzherr "looking like he'd been dragged backwards through a hedge" after his interrogation, and dismissed Jade Nash's telemarketing company idea as "a grubby little business".
Add to this the fact that it's been the most dismal ever series of The Apprentice, the format is starting to look tired and the viewing figures have taken a battering (a drop of 2.5 million on last year's final doesn't look pretty), and maybe Piers Morgan is right.
Perhaps it is time for a change at the helm.

But perhaps not. In fact, I say definitely not. I cannot see anyone else cutting it on this show.

Donald Trump on the American version just feels wrong. Littner is brilliant in the interviews task but that's where he should remain.

And unlike several of the investors on Dragons' Den, Alan Sugar has refused to turn himself into a false "television personality" or change the way he is.

That is exactly what The Apprentice needs. A grumpy, cantankerous, joyless old sod.
Adam Postans (@couchpotatoadam) is a TV critic, journalist and self-confessed Couch Potato.
DO YOU THINK LORD SUGAR SHOULD LEAVE THE APPRENTICE? LEAVE YOUR COMMENTS BELOW.
JOIN THE DEBATE ON TWITTER WITH THE HASHTAG #SOCIALVOICES
DO YOU WANT TO JOIN #SOCIALVOICES? WE'RE LOOKING FOR NEW WRITERS
Welcome to #socialvoices. This is the home of sharp writing, opinion and social debate on MSN. Jump into the comments, tweet us with the hashtag. Join in.

Are you looking forward to another Robbie Williams instalment?
Thanks for being one of the first people to vote. Results will be available soon. Check for results
Total Responses: 538
Not scientifically valid. Results are updated every minute.