Why music stars need to get off the telly!
Adam Postans looks at why music stars need to spend less time on TV judging panels and more time in the recording studio.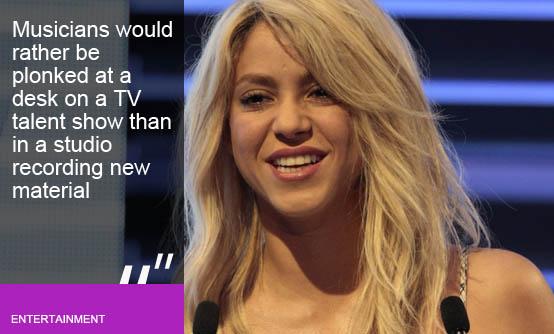 Clear your mind for one moment. Then, name the first pop star or R&B artist that pops into your head. Got one? Good. Now name one who has never been a judge on a TV talent show on either side of the Atlantic.


Chances are you've had to come up with two different people from that little exercise.
They're everywhere these days. Musicians, it seems, would rather be plonked on the opposite side of a desk on a television singing contest, like some overdressed member of a company's human resources panel, than actually spend time in the studio recording new material.


Usher and Shakira have just signed up as mentors for the next series of America's version of The Voice, replacing Christina Aguilera and Cee Lo Green and in so doing join Maroon 5 front man Adam Levine and country music star Blake Shelton.


  "Today's biggest stars have been lured by the bright lights of the small screen"


Auditions for season 12 of American Idol took place over the summer in front of new judges Mariah Carey and Nikki Minaj, who've taken over from Aerosmith rock legend Steven Tyler and Jennifer Lopez, while Simon Cowell's US X Factor currently features Britney Spears and Demi Lovato.


That's even before we mention judges past and present on TV talent shows on these shores – Cheryl Cole, Jessie J, Kelly Rowland, Gary Barlow, Tulisa, Nicole Scherzinger, will.i.am, Ginger Spice, Scary Spice, and possibly Chinese Five Spice.


I'm barely scratching the surface either. You see, it's a quick, easy buck these days for a successful pop star to appear on one of these programmes, without even having to get on stage and perform.


                 "Being a talent-show judge has become a badge of honour"


Not that they even have to be fully established in the industry. Rita Ora, of course, was a guest judge on The X Factor this summer after the grand total of two singles under her belt and not even an album released by that point.


The problem is that today's biggest stars have been lured by the bright lights of the small screen and this had made a not unsubstantial proportion of them too busy, and quite possibly too lazy, to concentrate on what they should be doing, making music for their fans.


They probably think that it's making them more popular and accessible to the public. But that's not what being a pop star should be about.


                  "Get back in the studio and write some great songs, please"



You don't get enigmatic figures selling out arenas anymore. I mean, can you ever imagine Prince as a mentor, plastered all over the TV? That would have been tantamount to tearing down the very walls behind which his pop/rock character existed, destroying his mystique.


Unfortunately, being a talent-show judge has become a badge of honour and a rite of passage for music acts. It's a crazy situation that dictates if you haven't had that particular status, you simply haven't made it in the business.


Well, I'm sorry, but it's all about the music. Get back in the studio and write some great songs, please.


TV talent shows can take care of themselves - leave them to the professionals.

Adam Postans is a journalist and commentator on all things celebrity, showbiz, television and music. Twitter: @coachpotatoadam

GET INVOLVED: SHOULD MUSICIANS BE SPENDING MORE TIME MAKING SONGS AND LESS TIME ON TV TALENT SHOWS? JOIN THE DEBATE ON TWITTER #SOCIAL VOICES OR LEAVE YOUR COMMENTS IN THE BOX BELOW.
Welcome to #socialvoices. This is the home of sharp writing, opinion and social debate on MSN. Jump into the comments, tweet us with the hashtag. Join in.

Are you looking forward to another Robbie Williams instalment?
Thanks for being one of the first people to vote. Results will be available soon. Check for results
Total Responses: 538
Not scientifically valid. Results are updated every minute.