America loves Cher Lloyd
...and there's nothing you can do about it, writes Tina Hart
We told you so.
Cher Lloyd is cracking America like a Cadbury's Creme Egg – and she's making it seem so damn easy.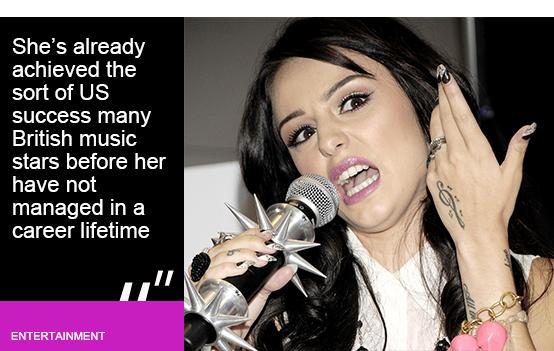 So whether you rate or slate the teenage talent, you've absolutely got you give the young Malvern lass credit – she's already achieved the sort of US success many British music stars before her have not managed in a career lifetime.
Cher's album Sticks and Stones, which went to number 4 in the UK in 2011, is due out in the US on September 18 (and will feature previously unreleased songs) but she's already making waves across the pond…
Before any of you haters get on your high horses, check out these recent facts and figures out for size:
Yesterday an army of fans/Brats camped out in their thousands to see her prior to her performance at a New York shopping center

What a way to make your US national TV debut! Cher performed her first US single Want U Back live on US mega-show America's Got Talent to wide acclaim earlier this week

Want U Back has already become a Top 40 hit on the main American chart (Billboard) and has stormed its iTunes chart, going in at number five

For the album version of Want U Back, the rap verse was re-recorded by none other than the Doggfather, Snoop. Wowsers.

She follows fellow X Factor graduates Rebecca Ferguson and One Direction, both of whom are doing well in the US . Will she be the next act from the show to debut there with a number one album? We reckon she's in with a bloody good chance

Blogger extraordinaire Perez Hilton adores her and often champions her on his massively popular website and at his own hosted shows

Cher's hoard of dedicated American 'Brats' is growing and she keeps getting mobbed on her specially-designed 'Brat bus' which is touring the territory.
Lest we forget, when we first came across Cher and her storming X Factor 2010 audition (for which she performed Keri Hilson's version of US rapper Soulja Boy's Turn My Swag On), the nation fell in love.
"Who is this pretty little thing with the big voice and huge stage presence singing this cracking tune?", many wondered.
From that performance we always knew Cher was destined to do well in the US and now that she's pretty much conquered it, the only question is - where next? Europe, Japan, Australia? Let the worldwide Brat takeover commence!
Tina Hart is a self-proclaimed urban-pop princess whose day job is staff writer at Music Week magazine.

Follow Tina on Twitter - @TinieTinah
WILL CHER LLOYD CRACK AMERICA? LEAVE YOUR VIEWS IN THE COMMENTS BELOW. JOIN THE DEBATE WITH THE HASHTAG #SOCIALVOICES
DO YOU WANT TO JOIN #SOCIALVOICES? WE'RE LOOKING FOR NEW WRITERS
Welcome to #socialvoices. This is the home of sharp writing, opinion and social debate on MSN. Jump into the comments, tweet us with the hashtag. Join in.

Are you looking forward to another Robbie Williams instalment?
Thanks for being one of the first people to vote. Results will be available soon. Check for results
Total Responses: 538
Not scientifically valid. Results are updated every minute.