Why Madonna's made a right boob of it
The Queen of Pop has once again sparked controversy by exposing her nipple on stage in Turkey. Adam Postans argues that her actions are damaging more than her own reputation.
Madonna caused a stir when she flashed her right breast on stage in Turkey during a performance of her song Human Nature. Adam Postans argues why her actions have caused more harm than good.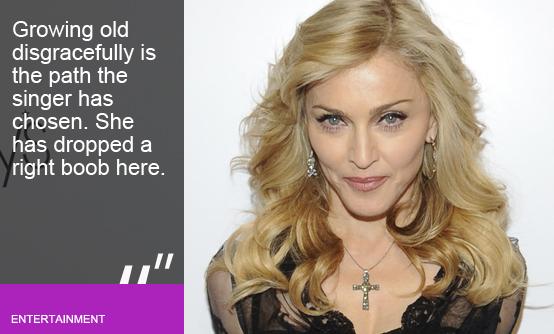 There is a time and a place for everything. In Madonna's world, that time is "always" and the place "everywhere".

So it will come as a surprise only to those who've spent the last quarter of a century in a cave that her latest brush with controversy took place last week on stage in Turkey where she flashed her right breast to fans during a performance of Human Nature.

If your reaction is: "Good on her. It's up to her what she does," I categorically disagree, and my reasons have little to do with the fact she turns 54 in a couple of months and probably should no longer be exposing her erogenous zones for the world to see.


        "That she chose to flash in an Islamic country is all the more regrettable"



No, there is a much deeper concern. Madonna has been a role model for women for nearly three decades and is no stranger to flying the flag for the fairer sex, not least in championing sexual freedom and equality.

But what she clearly fails to realise is that she's now actually doing women a huge disservice with ill-judged actions like this, which are self-defeating, cause more harm than good and do nobody any favours.

You have to ask yourself whether there was a purpose behind what she did at her concert in Istanbul, aside from self-promotion by stirring up a storm where none existed.
                     "Growing old disgracefully is the path the singer has chosen"


It has been suggested it was to help raise awareness of the oppression of women under Muslim regimes.

Well, it's hardly going to topple the hardliners, is it? And if that was her intention, does she seriously believe what she did can change anyone's beliefs, other than persuading the neutrals that she should keep herself covered up a lot more?

That she chose to flash the flesh in a traditionally Islamic country is all the more regrettable and simply opens the door for criticism.

The fact is we've seen stunts like this from the pop star all too often before.
When she shared a carefully orchestrated kiss with Britney Spears at the 2003 MTV Video Music Awards, the media were putty in her hands.


                "So please, Madonna, not just for your own sake, put it away"


Every time she's traded on overtly sexual images throughout her career since the raunchy sadomasochism of her Justify My Love video, they've been practically foaming at the mouth.

But the more she does them, the lesser the impact, and the greater her neediness seems for headlines and maintaining her public profile.

Growing old disgracefully is, alas, the path the singer has chosen. She has, literally and figuratively, dropped a right boob here.

So please, Madonna, not just for your own sake, put it away and have some dignity.
Because one thing's for sure. That would really shock the world.

Adam Postans (@couchpotatoadam) is a TV critic, journalist and self-confessed Couch Potato.

DO YOU THINK MADONNA DOES MORE HARM THAN GOOD TO THE IMAGE OF WOMEN? COMMENT IN THE BOX BELOW!
JOIN THE DEBATE ON TWITTER WITH THE HASHTAG #SOCIALVOICES
DO YOU WANT TO JOIN #SOCIALVOICES? WE'RE LOOKING FOR NEW WRITERS

Welcome to #socialvoices. This is the home of sharp writing, opinion and social debate on MSN. Jump into the comments, tweet us with the hashtag. Join in.

Are you looking forward to another Robbie Williams instalment?
Thanks for being one of the first people to vote. Results will be available soon. Check for results
Total Responses: 538
Not scientifically valid. Results are updated every minute.