Why Leanne Mitchell should have gone on The X Factor
The Voice winner's debut single has flopped to number 27 in the midweek charts. Adam Postans explains why it all went wrong so quickly.
Leanne Mitchell, winner of BBC's The Voice, has released a single that has only managed to get to number 27 in the midweek charts. Adam Postans looks at why Leanne would have been better off on The X Factor.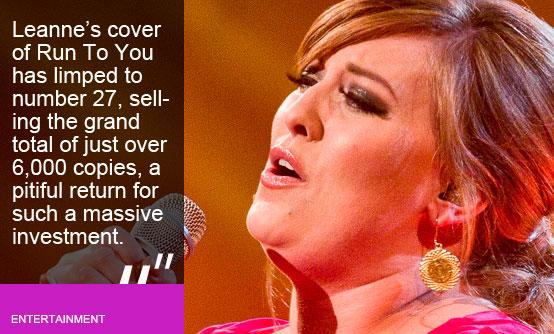 No matter what you think of Simon Cowell and his ITV talent shows, you can't deny they create huge stars overnight.
Leona Lewis, Susan Boyle, JLS, Alexandra Burke, Olly Murs, Diversity, Jedward... okay, so you can't win them all.
Without exception, every X Factor winner's debut single has reached number one.
So surely BBC1's answer, The Voice, would guarantee its champion, holiday park singer Leanne Mitchell, whirlwind if not necessarily lasting success.
Well, somewhere right now a group of execs at Universal records, the label behind the show, is looking grimly through their fingers at the midweek charts and wondering how on earth they can get out of this deal.
                "The audience realised it was just another TV karaoke contest."

Poor old Leanne's cover of Run To You has limped to number 27, selling the grand total of just over 6,000 copies, a pitiful return for such a massive investment.
Compare and contrast, then, what was considered at the time to be a disaster for Cowell, in 2009, when Joe McElderry was famously beaten to Christmas chart victory by Rage Against The Machine, which sold 502,000 to the X Factor winner's 450,000.
That's 450,000 copies of a song that would go on to reach number one the following week anyway.
Hardly a catastrophe, was it? In fact, more than anything, it puts The Voice's numerous failings into sharp focus.
      "The British public saw through all the hypocrisy and self-delusion"
Once the gimmick of the blind auditions was over, BBC1's great white hope suffered a calamitous drop in ratings as the audience realised it was just another TV karaoke contest.
The Beeb would have you believe otherwise, of course, to the point that the self-righteous pomposity was overbearing.
It was "all about the voice", apparently, and yet even as early as the battle rounds Danny O'Donoghue was choosing which singers to jettison based on who was most "marketable", the irony being that you can hardly describe Paul Potts, SuBo and Michelle McManus, all products of Cowell's shows, as conventionally marketable.                                                         
        "The four coaches were trying too hard"

Not that this particular road is always paved with gold, of course, littered as it is with the showbiz corpses of Steve Brookstein, Leon Jackson, Jai McDowall, Shayne Ward, Joe McElderry and, most recently, Matt Cardle.
But at least it guarantees instant success.
With The Voice, the British public saw through all the hypocrisy and self-delusion, the self-importance of the four coaches who, with the exception of Tom Jones, were trying too hard, the absence of any humour, the self-defeating Sunday night pre-recorded results show, the overwhelmingly average standard of the contestants, the fact we had to call them "artists" which is laughable, and The Voice's biggest failing of all...
As much as it desperately wants to be, it isn't The X Factor. And never will be.
Adam Postans (@couchpotatoadam) is a TV critic, journalist and self-confessed Couch Potato.

DO YOU THINK LEANNE MITCHELL SHOULD HAVE GONE ON THE X FACTOR INSTEAD?
LEAVE YOUR COMMENTS BELOW.
JOIN THE DEBATE ON TWITTER WITH THE HASHTAG #SOCIALVOICES
DO YOU WANT TO JOIN #SOCIALVOICES? WE'RE LOOKING FOR NEW WRITERS
Welcome to #socialvoices. This is the home of sharp writing, opinion and social debate on MSN. Jump into the comments, tweet us with the hashtag. Join in.

Are you looking forward to another Robbie Williams instalment?
Thanks for being one of the first people to vote. Results will be available soon. Check for results
Total Responses: 538
Not scientifically valid. Results are updated every minute.