The new Robbie Williams album is irrelevant
With Take The Crown scheduled for release on November 5th, Fraser McAlpine argues that Robbie's moment in the sun has passed...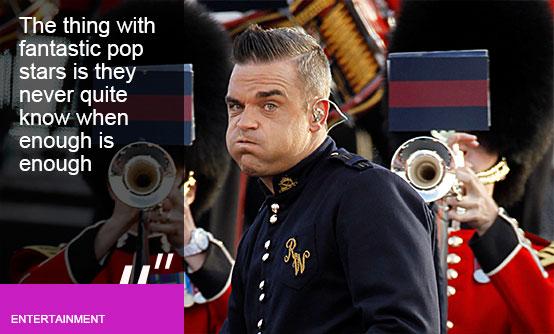 Robbie Williams has every right to record as much music as he wants to, from now until he finally gives in to his transparent desire to blow himself up on stage, while doing a hip-swivel, winking, sticking his tongue out, and catching the hand-held mic he's been spinning in the air.
 
There may be plenty of reasons to be frustrated at his career; the swing album, the bitter songs about being in Take That, the cynical songs about the media and drugs, those preposterous one-liners, the arrogance, the self-hate; but at his best, he has been a fantastic pop star.
 
But the thing with fantastic pop stars is they never quite know when enough is enough. Ever since he elected to promote the album Rudebox (much better than its sales would indicate) with the single Rudebox (phenomenally irritating), Robbie has struggled to add anything to his stockpile of noteworthy hits, and while his decision not to rejoin Take That when they first reformed may have been taken from a position of strength, his decision to rethink that decision certainly wasn't.
 
They made an album, Progress, which was admirable in some ways, but light on truly great songs. And when it came to touring, Robbie's section of the concert was devoted to his old solo hits: Let Me Entertain You, Come Undone, Feel, and Angels.
 
So while he has every right to announce, as he just has, the release of a new album (Take The Crown, out on November 5th), the good news for people with ears is that we have every right to ignore it. After all, he can only take his career in one of three directions.
 
He can innovate, change his sound, create a whole new sonic playground for himself, while crossing his fingers that enough of his old fanbase get what he's on about, and steeling himself for another backlash.
 
Or he can try and re-establish his musical footprint, record a bunch of solid, melodic arena rock songs with uplifting choruses and classic instrumentation. He can call them She's The Two, Millenniums, or Let Me Continue To Entertain You.
 
Worst of all, he could try and engage with modern pop music. He could enlist Calvin Harris, record a duet with Ke$ha, with a guest rap from Pitbull. After years of determinedly standing out, he could find himself having to fit in, in order to appear relevant.
 
And the fact is, he isn't relevant; not any more. He's a married pop recluse in LA. He runs a celebrity football team. He's buried the hatchet with Gary Barlow and put his bile to bed.
 
Which only leaves the question: what is there left to sing about, and who is going to be there to listen?
Fraser McAlpine is a music writer and (occasional) broadcaster who has written for Top of the Pops, Radio 1, NME, BBC Music and has also appeared on BBC Radio 2, Radio Cornwall and Five Live. You can follow him on Twitter @csi_popmusic

IS ROBBIE WILLIAMS STILL A RELEVANT FORCE IN POP MUSIC? LEAVE YOUR COMMENTS BELOW. JOIN THE DEBATE ON TWITTER WITH THE HASHTAG #SOCIALVOICES

DO YOU WANT TO JOIN #SOCIALVOICES? WE'RE LOOKING FOR NEW WRITERS
Welcome to #socialvoices. This is the home of sharp writing, opinion and social debate on MSN. Jump into the comments, tweet us with the hashtag. Join in.

Are you looking forward to another Robbie Williams instalment?
Thanks for being one of the first people to vote. Results will be available soon. Check for results
Total Responses: 538
Not scientifically valid. Results are updated every minute.