Made a successful TV show? Spare us the film adaptation please
By Daniel Bettridge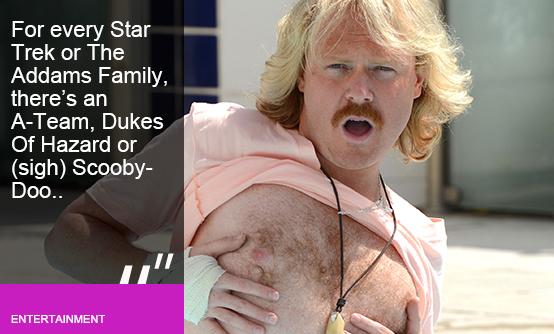 Now don't all rush at once but Keith Lemon: The Film is in cinemas today. Yes to a summer that's already given us Brave, Avengers Assemble and The Dark Knight Rises we can now add a film about the fictional presenter responsible for hosting duties on ITV2's most watched show. And if that's not going to tempt you into cinemas then I don't know what will.

We might mock but for some reason Lemon, the alter-ego of comedian Leigh Francis, has proved enduringly popular with British audiences; so it's no surprise to see him make the leap from small to silver screen. But whilst Mr Francis is sure to be laughing all the way to the bank whether audiences will have their ribs similarly tickled remains to be seen.

But in that regard it's not alone. Last year The Inbetweeners followed a wildly successful stint on the schedules with a hit summer movie that smashed records at the box office, despite failing to hit the admittedly high standards the series had set. Both are examples of an increasing trend in giving successful shows the movie treatment, but whilst we're all too eager to hand over our hard earned cash to enjoy our favourite characters on the silver screen, I can't be the only person who invariably leaves disappointed once the credits roll?
After all great movie versions of popular TV shows are few and far between. For every Star Trek or The Addams Family, there's an A-Team, Dukes Of Hazard or (sigh) Scooby-Doo. In fact the roll call of TV to movie adaptations reads like a greatest hits of bad films with the likes of Inspector Gadget, Miami Vice and Lost in Space all in contention.

So why do these films fail? The biggest problem is that what works on TV doesn't necessarily work in cinemas. They are after all, two distinctly different mediums and there are often teething problems when filmmakers feel like they need to sex up the content. They need to justify your entrance fee, you have after all previously enjoyed the characters and ideas for free in the comfort of your own living room, so TV specialists-turned filmmakers inevitably end up over egging the pudding in an effort to encourage you into auditoriums.
The quality also wanes. Film productions are far larger than those on the small screen, so the original idea that made a show so successful inevitably gets watered down as more and more creative and commercial considerations are brought on board to bring it to cinemas. It's the dramatic equivalent of photocopying a photocopy so the end product ends up baring little or no resemblance to its cathode ray counterpart.

But no matter how bad the end results the sad news is that filmmakers will continue to adapt TV shows so long as audiences go to watch them. They're a goldmine, films with built in audiences who'll handover good money to spend some more time with the characters that they hold near and dear. But lovers of Keith Lemon on TV should realise that this was never going to translate so well on film. Perhaps it's time that the people behind the TV shows said no to the bright lights of cinema if only to avoid forever tarnishing the great telly that helped them to make their names.
So what do you think? Are you a fan of movie adaptations of TV shows or would you rather they stayed on the small screen? Let us know in the comments below or join the debate on twitter with the #socialvoices hashtag.
Welcome to #socialvoices. This is the home of sharp writing, opinion and social debate on MSN. Jump into the comments, tweet us with the hashtag. Join in.

Are you looking forward to another Robbie Williams instalment?
Thanks for being one of the first people to vote. Results will be available soon. Check for results
Total Responses: 538
Not scientifically valid. Results are updated every minute.