The endless sob stories and crying on X Factor has to stop
Adam Postans has reached boiling point over X Factor's copious tears and sob stories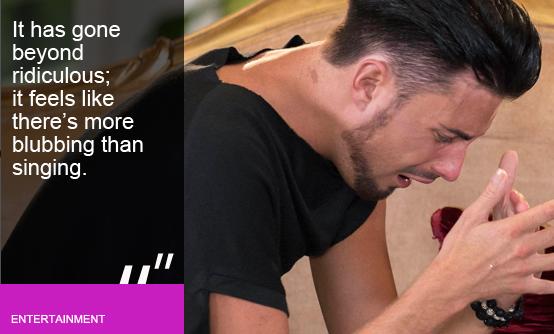 Even before the live shows kick off, it's fairly safe to say this series of The X Factor will be best remembered for one moment; Rylan Clark's extraordinary reaction to Nicole Scherzinger putting him through at Judges' Houses.
It's almost impossible to do it justice, but I'll try. Imagine an infant holding its breath in that moment before wailing and screaming its head off, only to suddenly develop labour pains, double over, rock back and forth, and attempt to speak having had a local anaesthetic injection at the dentist's half an hour ago.
Got that? Then you're somewhere near the ghastly reality.
"Crying seems to have become a necessity on this show."
It's her own fault, but the look of instant regret and horror on poor Nicole's face was almost as priceless.
Yet Rylan's Oscar-worthy meltdown was sadly indicative of this weekend's sob-fest. The only surprise was that nobody sang Cry Me A River. But they didn't need to; 20 of the contestants shed tears – (20!), including all four members of boyband Union J. It was 21 if you include Tulisa.
Crying seems to have become a necessity on this show. It's the currency everyone trades on to gain the most attention, and it has gone beyond ridiculous; it feels like there's more blubbing than singing.
The sob stories were flying in all directions at Judges' Houses:
"I live in a council house." "I live in a tower block." "I live in a bedsit."
"I'm doing this for my nan." "I'm doing this for my daughter."
"IVF failed and as a result my marriage fell apart."
"I've had self-doubt and been paranoid about my appearance."
"I'm married to Ozzy Osbourne."
OK, the last one didn't happen, but I could have filled this entire article with examples from Saturday and Sunday's double bill alone.
I'd be here all day if I listed each and every sob story and its weeping owner.
The horrible irony is that one contestant's background is genuinely tragic; when Jake Quickenden first auditioned for X Factor 2012, his younger brother was terminally ill. He has since passed away.
Jake's tears for his sibling were affecting; Rylan's tears at making the live shows were excruciating... and excruciatingly funny. What it demonstrates more than anything is that X Factor is no longer first and foremost a singing competition (as it likes to boast) – it is instead a do-everything-for-th​e-ratings behemoth that lost sight a long time ago of what it set out to be.
"One day maybe, a contestant will turn up at X Factor without a sob story."
Yes, viewers need to know some of the hopefuls' back-stories to connect with them, but the focus is skewed far too much on tales of self-absorption, self-indulgence and self-pity.
There are moments when you forget the point of the series is to find a pop star, not the person who can fill a bucket with tears in the fastest time or come up with the most heart-wrenching piece of personal baggage.
I suspect it's one of several reasons why the ratings have slipped behind previous years. Viewers are finding the emotional "journeys" and endless crying tedious.

One day maybe, a contestant will turn up at X Factor without a sob story. They may even survive an entire episode without once breaking down in tears. But until then, I'm betting on Rylan Clark bawling because his fake tan has faded.
Adam Postans is a journalist and commentator on all things celebrity, showbiz, television and music. Twitter: @coachpotatoadam

GET INVOLVED: IS THERE TOO MUCH TEARS ON X FACTOR? DO YOU THINK THE SHOW SHOULD CUT DOWN ON SOB STORIES? JOIN THE DEBATE ON TWITTER #SOCIAL VOICES OR LEAVE YOUR COMMENTS IN THE BOX BELOW.
Welcome to #socialvoices. This is the home of sharp writing, opinion and social debate on MSN. Jump into the comments, tweet us with the hashtag. Join in.

Are you looking forward to another Robbie Williams instalment?
Thanks for being one of the first people to vote. Results will be available soon. Check for results
Total Responses: 538
Not scientifically valid. Results are updated every minute.