Lady Gaga Finally Finds A Taboo She Can't Break
She can wear meat, have a penis, and pretend to be a motorbike, but it seems being slightly overweight is a step too far even for Lady Gaga, writes Fraser McAlpine...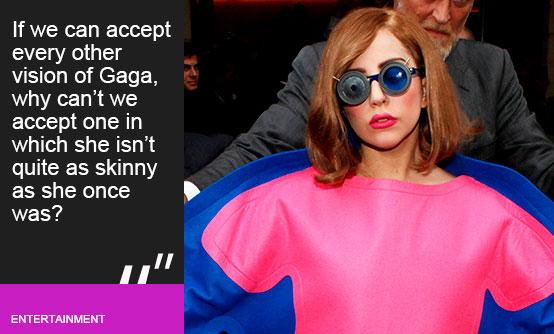 It's not unheard of for a record company to suggest a singer cut back on the carbs and hit the gym. In fact, it can often become mandatory practice, especially if that singer is female and has the faintest possibility of standing next to a rival singer who is perhaps naturally smaller or thinner. That's the kind of photogenic arms race celebrity life encourages.
 
But it does seem strange that Lady Gaga should find herself in this position. Not only has she been ordered to slim down, after gorging herself at her father's new Italian restaurant, but she has also had to issue a statement clarifying that she is indeed fat (relatively speaking), and not pregnant, as claimed by Kelly Osbourne.
And she has had to do this to prevent an outcry over a moment in her recent Amsterdam concert, in which she appeared onstage smoking a joint.
 
All of which begs the question: is weight gain the only Gaga-proof taboo left in showbiz?
 
Lady Gaga can cry black blood, she can have a penis, she can be a motorbike, she can wear the ingredients of a mixed grill as a dress, she can wear a Kermitskin jumper, she can sing about total acceptance of every sexual preference, every gender identity, she can do whatever she likes and wear whatever she likes. But the moment it looks like she's put a few pounds on, all claims to artistic freedom are scraped into the bin and she's expected to a) apologise and b) start counting the calories with the rest of us.
 
And what's worse, she has given in to these demands. Suddenly, the imperious singer who won't explain her stage-wear, video conceits or grand designs for the future of entertainment, fashion and art has to offer humble quotes about how delicious her father's food is, and promise to do better in future.
But why?
If we can accept every other vision of Gaga, why can't we accept one in which she isn't quite as skinny as she once was? And rather than apologise or explain, why can't she simply ignore everyone and maintain that enigma she's been working so hard on?
 
A truly haughty pop monarch (of the Henry VIII school) would simply bellow "THIS IS MY NEW LOOK! BECOME USED TO IT!" and get on with designing a new space beetle hat, or something.
Fraser McAlpine is a music writer and (occasional) broadcaster who has written for Top of the Pops, Radio 1, NME, BBC Music and has also appeared on BBC Radio 2, Radio Cornwall and Five Live. You can follow him on Twitter @csi_popmusic 
Welcome to #socialvoices. This is the home of sharp writing, opinion and social debate on MSN. Jump into the comments, tweet us with the hashtag. Join in.

Are you looking forward to another Robbie Williams instalment?
Thanks for being one of the first people to vote. Results will be available soon. Check for results
Total Responses: 538
Not scientifically valid. Results are updated every minute.