The Mercury Prize is the most irrelevant award in music
As the shortlist for the 2012 Barclaycard Mercury Prize is revealed, Laura Hills argues the award represents the music industry at its most pretentious and irrelevant...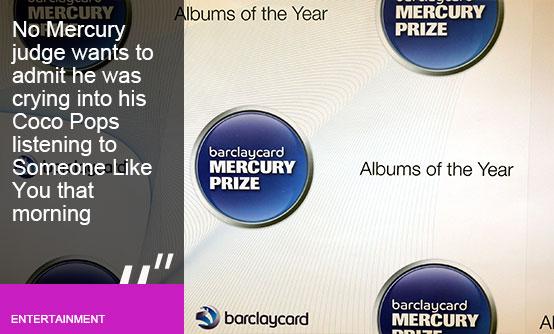 Looking back on the past 10 years of the Mercury Prize, it's difficult to count on one hand the number of acts who are still around, relevant and making music. Anyone still clinging on to their Roni Size back catalogue? Or what about your Speech DeBelle album? Do you still have that one playing on repeat? No, thought not.
That's because when it comes to relevance, the Mercury Prize is about as high up the list as the last Big Brother winner. Despite its hype, big name judges and the build up to each year's shortlist announcement, it represents the music industry at its most pretentious.
The Mercury Prize and the bigwigs who dust off their skinny jeans and coloured framed glasses every year to judge it are about as predictable as it comes.
Every year a list of 300 artists is whittled down to a shortlist of 12 which will always, always, include at least one act from each of the following categories; average indie band, obscure jazz artist, crowd pleasing pop wonder, unremarkable folk singer and of course, the weird warbler who will nearly always walk away with the prize.
The winner is almost as predictable as the sob stories X Factor contestants rehash year on year. As long as the album has a political or social stance and can only be enjoyed after a bottle of red wine with your trendiest friends, then it is almost certain to scoop the £20,000 prize.

But then isn't that what the music industry is all about? Aging men in skinny cut suits who like to dissect the true meaning of what makes a great album while ignoring the greater music buying public altogether.
Take Adele as an example. Nominated last year for her hugely successful album, 21, she never stood a chance. Not only was she too obvious a choice, she was also too popular. No self-respecting Mercury judge wants to admit he was crying into his Coco Pops while listening to Someone Like You only that morning.
Instead the winner was PJ Harvey's Let England Shake, an album about the war in Iraq and Afghanistan, a concept guaranteed to appeal to every pretentious bone in the judges' bodies. They probably didn't even bother listening to the others.
This year's nominees include the critically acclaimed Plan B, indie favourites The Maccabees and chart topper Ben Howard, but it's most likely to be little-known newcomers Alt-J who go home with the prize.
Why? Because they're the act we're all guaranteed to look back on in a few years and ask... "What happened to them?"
Do you agree with Laura? Let us know in the comments section below or join in the debate on Twitter with the #socialvoices hashtag.

Laura Hills is a pop culture junkie, gin enthusiast, and Deputy Editor of Who's Jack magazine. Follow Laura on Twitter @laurawhosjack

Let us know your views in the comments below. Join the debate on Twitter using
Do you want to join #socialvoices? We're looking for great new writers.
Welcome to #socialvoices. This is the home of sharp writing, opinion and social debate on MSN. Jump into the comments, tweet us with the hashtag. Join in.

Are you looking forward to another Robbie Williams instalment?
Thanks for being one of the first people to vote. Results will be available soon. Check for results
Total Responses: 538
Not scientifically valid. Results are updated every minute.