Why Brits have made it the golden age for American telly
Adam Postans looks at why British actors have made it a golden era for US television.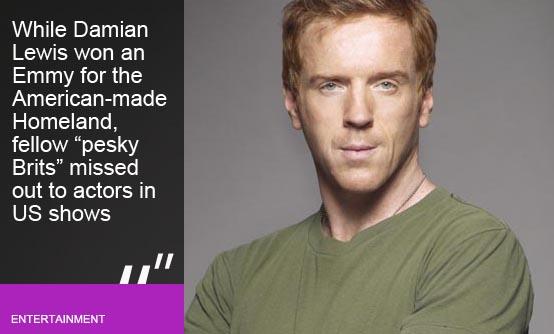 If you're British and you care about quality television and home-grown talent, the news overnight that Damian Lewis has won an Emmy for best actor in a drama series will be greeted no doubt with jubilation.

It's time to celebrate and why not? Well, there's actually a good reason why not. His award could come at a heavy price. It might open the floodgates to a brain-drain from these shores to America.

There has been a growing trend for UK actors, "pesky Brits" as Lewis referred to himself and others in his acceptance speech, to put on a convincing American accent and ply their trade on the other side of the Atlantic.

You can understand why. The rewards can be immense. Just ask Hugh Laurie who became TV's highest-paid actor in House.


      "If you land a role in a TV show in the US, your chances of success increase"


It clearly opens doors and advances careers. Idris Elba, to name but one, has had the world at his feet since The Wire.

The problem is that America's gain is our loss. Stephen Graham could have easily ignored offers of work back in Blighty after his role as Al Capone in Boardwalk Empire made him one of the most recognisable faces on American television.

Thankfully, he's found the time and inclination to accept them and has been central to some of the best drama the BBC has produced in years, notably Occupation, Accused opposite a cross-dressing Sean Bean, and currently Good Cop, plus Channel 4's This Is England strand.

He even found time to star in the fourth Pirates of the Caribbean movie. We'll forgive him that, obviously.

Unfortunately, Stephen Graham is the exception rather than the rule. Not everyone is as hard-working, and nobody can be in two places at once.

                           
                  "Only Dame Maggie Smith flew the flag for a British series"


Dominic West was darkly brilliant as Fred West in ITV1's Appropriate Adult last year, but it makes you wonder how many other fantastic roles he never got to do in the UK while he was The Wire's Detective Jimmy McNulty in Baltimore for six years.

The fact is if you land a role in a TV drama in the States, your chances of success increase enormously.

While Damian "Brody" Lewis won an Emmy for the American-made Homeland, fellow "pesky Brits" Brendan Coyle and Jim Carter (Downton Abbey), Benedict Cumberbatch and Martin Freeman (Sherlock), and Emma Thompson (The Song Of Lunch) all missed out to actors in US shows.
            
       "We don't have the clout in this country to keep our best television talent"


Only Dame Maggie Smith flew the flag for a British series. That's one winner out of six, a lousy return, and I don't believe for a moment this is coincidence.

With Downton's Joanne Froggatt off to the States to pursue a film career, it's indicative of the fact that we don't have the clout in this country to keep our best television talent.

So much of it is leaving and Damian Lewis's Emmy glory will do nothing to keep it here. And what have we had in return? At last count, only Shirley MacLaine. Hardly a fair swap, is it?

It's not confined to acting. The X Factor is poorer for Simon Cowell choosing to appear regularly only on the US version.


                 "Damian Lewis's Emmy is a worrying sign for British television"


Steve Jones and Cat Deeley have followed their star-spangled dreams, with varying success. As has Piers Morgan. Yet, despite all our hopes, we still get to see him every week on ITV1's Life Stories.

The serious point is that Damian Lewis's Emmy is a worrying sign for British television.
He said in his speech: "What an extraordinary honour to be in a category with these golden actors setting a gold standard in acting in a golden age of TV."

I agree with him. We are in a golden age of TV. Thanks to the pesky Brits, a golden age of American TV.

Adam Postans is a journalist and commentator on all things celebrity, showbiz, television and music. Twitter: @coachpotatoadam

JOIN THE DEBATE: SHOULD BRITISH ACTORS STAY ON UK TV SHOWS? LEAVE YOUR COMMENTS IN THE BOX BELOW OR JOIN THE DEBATE ON TWITTER #SOCIALVOICES.
Welcome to #socialvoices. This is the home of sharp writing, opinion and social debate on MSN. Jump into the comments, tweet us with the hashtag. Join in.

Are you looking forward to another Robbie Williams instalment?
Thanks for being one of the first people to vote. Results will be available soon. Check for results
Total Responses: 538
Not scientifically valid. Results are updated every minute.