The X Factor: a WWE wrestling match is less staged
by Adam Postans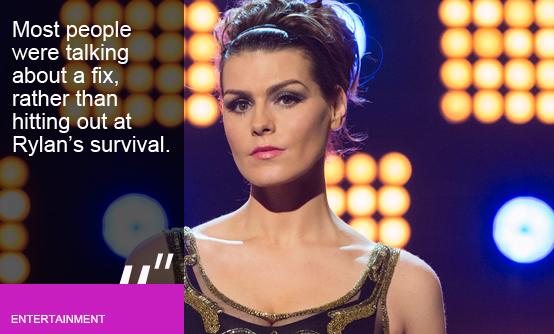 Another evening of drama on The X Factor, another morning after with the series mired in controversy.
As you probably know by now, unless you're a fan of Antiques Roadshow, the latest furore was Louis Walsh, with the casting vote, sending last night's result to deadlock (cue dramatic sound-effect thud), thereby saving the atrocious Rylan Clark at the expense of the patently superior Carolynne Poole.
It immediately provoked cries of "fix!" from viewers and this selection of posts on Twitter:

@AndyMartindale: Hopefully people are starting to realise how this show works now. I remember when I thought wrestling was real #xfactor.

@Juptin: Everyone stressing about the #xfactor should realise what they're basically doing is believing American wrestling is real.

@unseenflirt: In many ways, #xfactor is similar to WWF wrestling. Only a bit more fake. And with worse singing.

@WelshDalaiLama: Twitter. As if #XFactor had integrity to begin with. Calm down. It's like getting angry about the winner of a wrestling match. #JustAsFixed.
Fuelling the fire even more was the sight of executive producer Richard Holloway shuffling up to Louis Walsh (on his backside in a failed attempt to stay out of camera shot), whispering into his ear during Carolynne's sing-off.
At that point, the result of the public vote would be known to the show's bosses, should the judges happen to send it to deadlock.
But one aspect that can be manipulated is the judges' voting
At best - it was a moment of misjudgment on behalf of the production team; not only to make such a move at such a critical time, but also to sloppily allow millions of viewers to see it.
At worst - it's strong evidence that the show is a carefully orchestrated enterprise.
I don't dispute that the public vote is genuine; it has to be counted and verified, otherwise broadcasting laws are being broken, something ITV is all too aware of from past experience.
But one aspect that can be manipulated is the judges' voting, especially when it seemed that Rylan, the contestant who has attracted the most media attention, debate and potentially the biggest ratings, was in serious danger of ending up on the scrapheap in week one of the live stages.
So really, is it any surprise if Louis is given orders to save Rylan's skin, if that is indeed what happened? Twitter was rife with reports that a member of the studio audience heard Louis tell Tulisa that he was told to take it to deadlock.
Also, let's not forget how incredulous Dermot O'Leary (wearing an earpiece through which the producers can communicate) sounded when it seemed Louis was saving Carolynne before changing his mind and opting for the public vote.
It proved that the watching nation is not fooled by the charade anymore
If you don't believe this show is orchestrated in such a way - from the judges' rows to Gary Barlow storming off stage last night - then you are extremely naive.
But that's just it. The vast majority of viewers are clued up. The irony is that, if anything, years of audience manipulation and sheer cynicism by The X Factor has toughened us up.
The post-show reaction on Twitter was fascinating and very revealing. Most people were talking about a fix, rather than hitting out at Rylan's survival in the competition and Carolynne's exit.
It proved that the watching nation is not fooled by the charade anymore.
As @ohTHATak tweeted: "Cannot decide whether #xfactor is very clever or the viewers are very stupid. It's as scripted as WWE Wrestling yet people allow the duping."
I believe The X Factor used to be very clever in this respect. But viewers are no longer very stupid. They've wised up. It is time The X Factor did the same.
Adam Postans is a journalist and commentator on all things celebrity, showbiz, television and music. Twitter: @coachpotatoadam

GET INVOLVED: IS THE X FACTOR STAGED? JOIN THE DEBATE ON TWITTER #SOCIAL VOICES OR LEAVE YOUR COMMENTS IN THE BOX BELOW.
Welcome to #socialvoices. This is the home of sharp writing, opinion and social debate on MSN. Jump into the comments, tweet us with the hashtag. Join in.

Are you looking forward to another Robbie Williams instalment?
Thanks for being one of the first people to vote. Results will be available soon. Check for results
Total Responses: 538
Not scientifically valid. Results are updated every minute.