Why British music was the real star of the Olympics opening ceremony
If the Olympics opening ceremony proved anything, it's that we do music really, really well, writes Laura Hills...
We're only three days into the much anticipated and much-dreaded London 2012 Olympic Games and already I think we've found its biggest star.
Forget Tom Daley, put Jessica Ennis to the back of your mind and leave Rebecca Adlington well alone; if there's one event Team GB can always be relied upon to win gold in, it's music.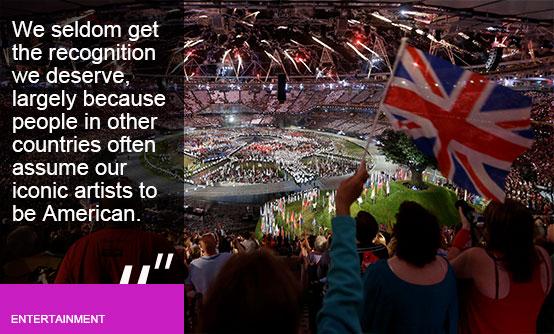 There was much speculation in the lead up about what we'd see in Friday's opening ceremony; whether it was Boyle's inclusion of livestock, people on bicycles dressed as birds, the fireworks display, the £27million budget or who would light the Olympic torch.

And yet once the ceremony was finished, there was one thing people were tweeting and facebooking about more than anything else - the music.
Whether it was the Arctic Monkeys' surprise rendition of Come Together, Emeli Sande's show-stopping performance of Abide With Me or Boyle's mash-up of late '80s and early '90s chart hits, the music provided an atmosphere no amount of perfectly choreographed dancers, a parachuting Queen, or British greats such as Kenneth Branagh and David Beckham could have achieved.

The opening ceremony gave Britain a chance to stand up in front of the world and say, "We might not be in charge any more but we've bossed the last 50 years of popular tuneage".
Despite the fact we're the country which produced The Beatles, The Rolling Stones, Led Zeppelin, David Bowie, The Sex Pistols, The Clash, New Order, The Smiths, Oasis and countless others, we seldom get the recognition we deserve, partly because we don't like blowing our own trumpet, but largely because people in other countries often assume our iconic artists to be American.

Whether it's the Last Night of the Proms or Glastonbury, music is something that us Brits have always done very well. Unlike many other counties, our music translates across nations and continents, and so to centre his celebration of Britain around its music was an utterly genius move on Boyle's part.
Not only did it all have us crying "Remember this?" every time a song evoked a memory, it also encouraged us to move through all the emotions of a great occasion. From pride to nostalgia, from joy to sadness, the chosen tracks had a little something for everyone.

And it seems I'm not alone in my thoughts. According to reports today, all of the performers at Friday night's ceremony have enjoyed a pleasant boost in sales over the weekend. Not to mention the fact that the majority of tracks from Danny Boyle's Isles of Wonder Opening Ceremony soundtrack are now sitting cosily within the iTunes chart.

We might not top the medals table, but we're definitely top of the pops.
Laura Hills is a pop culture junkie, gin enthusiast, and Deputy Editor of Who's Jack magazine.


Follow Laura on Twitter @laurawhosjack


Let us know your views in the comments below. Do you want to join #socialvoices? We're looking for great new writers.
Welcome to #socialvoices. This is the home of sharp writing, opinion and social debate on MSN. Jump into the comments, tweet us with the hashtag. Join in.

Are you looking forward to another Robbie Williams instalment?
Thanks for being one of the first people to vote. Results will be available soon. Check for results
Total Responses: 538
Not scientifically valid. Results are updated every minute.