Why Rylan Clark has already won The X Factor
He's Gary Barlow's guilty pleasure and has won over Nicole Scherzinger too, is Rylan on his way to winning the X Factor?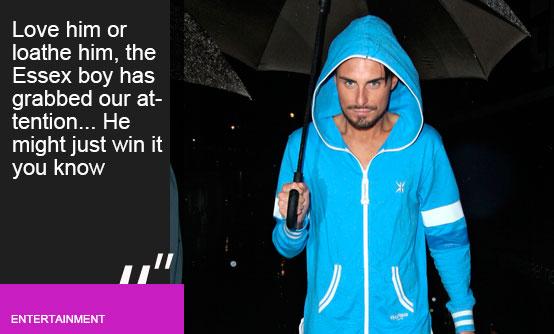 The latest hot showbiz news, in case you haven't heard, is that a 23-year-old X Factor contestant popped to the shops on Tuesday night wearing a blue onesie outfit and spaceman-silver Ugg boots.
That's the big gossip right now. Tell your friends. Pass it on. Shout it from the rooftops!
Now, if you suspect I'm overdoing it a bit and being cynical, that's actually not the case at all.
The contestant in question is Rylan Clark and the fact that the world's biggest news sites have published paparazzi photographs of his late-night shopping excursion as the main angle to their story demonstrates his meteoric rise into the public's consciousness.
Love him or loathe him, the Essex boy has grabbed our attention and become the main talking point on this year's show, thanks primarily to his dubious fashion sense and THAT reaction at Judges' Houses in Dubai on being told by Nicole Scherzinger he was going through to the live finals.
Rylan has got the X Factor wrapped around his little finger
The question is can he win the whole competition? I have my doubts but I'll tell you this. He might just do it, you know.
Rylan has clearly been picked as the "novelty act" of the final 12. There's always one chosen purely for entertainment, controversy and publicity reasons.
Yet unlike previous incarnations of that role – Wagner, Chico, Jedward, and last year Frankie Cocozza – never before has there been so much buzz around them before the live shows have got under way.
Rylan has got the X Factor wrapped around his little finger. He's Gary Barlow's guilty pleasure, has won over his mentor Nicole, and the other contestants have leapt to his defence, insisting he is an accomplished singer with a great personality.
In my opinion, he sings like a BBC newsreader, on Red Nose Night, and has created this false, affected persona for television. But that's also why he has stolen a march on the competition.
You see, Rylan has experience in this department, having been runner-up on Sky Living's little-watched (apart from by me for professional reasons) search for a new model, Signed By Katie Price.
Put it in your diary: January, 2013, Celebrity Big Brother, housemate number one, Rylan Clark.
What he is doing is playing the reality TV game exceptionally well. The outrageous outfits, the Essex abbreviations, the tears, the hyperventilating, the "Oh Dermot, stop it!" It's all part and parcel of that.
Try naming the other 11 finalists, let alone the four wildcards. I'm struggling after three. There are so many anonymous wallflowers among them who'll fall by the wayside in a hurry and be instantly forgotten.
Rylan, on the other hand, knows how to put himself out there and get the votes. Plus it's a weak year for talent, so he does stand a chance.
But that doesn't matter, because he has actually already won The X Factor, whether or not he is named champion the week before Christmas.
Rylan says it's his dream to become a pop star but he's really there to become famous.
The modelling thing didn't happen so he's trying a different route to fame. And he's already had more publicity on The X Factor than he did during the entire run of Signed By Katie Price.
In other words, he has already made it. He has become a reality TV star.
Put it in your diary: January, 2013, Celebrity Big Brother, housemate number one, Rylan Clark.
As Davina McCall would say: "Please do not swear."
Adam Postans is a journalist and commentator on all things celebrity, showbiz, television and music. Twitter: @coachpotatoadam

JOIN THE DEBATE: SHOULD BRITISH ACTORS STAY ON UK TV SHOWS? LEAVE YOUR COMMENTS IN THE BOX BELOW OR JOIN THE DEBATE ON TWITTER #SOCIALVOICES
Welcome to #socialvoices. This is the home of sharp writing, opinion and social debate on MSN. Jump into the comments, tweet us with the hashtag. Join in.

Are you looking forward to another Robbie Williams instalment?
Thanks for being one of the first people to vote. Results will be available soon. Check for results
Total Responses: 538
Not scientifically valid. Results are updated every minute.