Ceefax: the daddy of digital media
As Ceefax retires at the age of 38, a former editor says its oft-derided format helped shape the web today.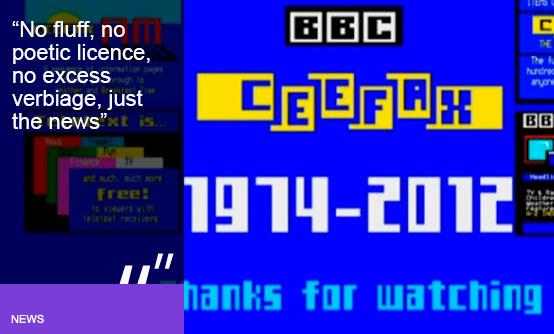 I'm mourning the death of an old friend, increasingly slow, creaky and made of Lego blocks – but despite outward appearances, a significant force behind some of the whizziest news services in the UK today.
Yes, I'm referring to BBC Ceefax, of course, the world's first news on-demand proposition, even if that meant dialling up a number on your handset (101 for News, 301 for Sport etc etc) and waiting patiently for the selected page of text to splutter into life on your TV.
"When I introduced a whole range of changes ... there were well over a thousand calls of complaint on the first day alone"
Any event, big or small, told in four paragraphs. No fluff, no poetic licence, no excess verbiage, just the news. Or a football score, share price, weather forecast – just about anything you could think of, hemmed in by the technical limitations of squeezing a bit of text onto the TV signal.
Hardly sounds cutting edge in our days of broadband and 4G, but good enough then to have 20 million readers a week. And of course I am slightly biased, as a former Editor of Ceefax from 1996-2000.
Many of those 20 million were remarkably passionate, sometimes unhinged, fans of the service. When I introduced a whole range of changes to the service in 1996 (no user testing in those days, just some hunches) there were well over a thousand calls of complaint on the first day alone – and one death threat from a reader so furious I had removed the potato prices from the Finance pages that he claimed he would come to Television Centre with his shotgun…  
Fortunately the furious farmer didn't turn up and the rest of the audience got used to changes that stayed in place right up until the final switch off of Ceefax in Northern Ireland today.
"If a writer ignored the rules, the story wouldn't publish."
And the Ceefax team, not widely regarded in the BBC but with one of the biggest audiences outside, kept up the good work, boiling any world event into 90 words and publishing instantaneously  (what website can claim that?) to every home in the UK.
Writing at that speed, with such clarity and accuracy, was a great skill – and a skill that was embraced more widely when Ceefax merged with the corporation's News and Sport websites.
Suddenly, stories written by journalists for the website all had to have a top four paragraphs and a 33 character headline that would fit automatically onto Ceeefax. If a writer ignored the rules, the story wouldn't publish - the old man keeping the young upstart in its place....  
So as the off button is pressed for a final time, we should look back with fondness on a media giant of its day, loved by millions, crafted by some excellent journalists (this writer excluded) and still an influence on services consumed by great swathes of the UK every single day.
Pete Clifton is executive producer of MSN and a former BBC editor. You can follow him on Twitter @PeteClifton
WILL YOU MISS CEEFAX? TELL US IN THE COMMENTS BELOW OR ON TWITTER USING #SOCIALVOICES   
Welcome to #socialvoices. This is the home of sharp writing, opinion and social debate on MSN. Jump into the comments, tweet us with the hashtag. Join in.

No tweets available. Please try again later
Are you looking forward to another Robbie Williams instalment?
Thanks for being one of the first people to vote. Results will be available soon. Check for results
Total Responses: 538
Not scientifically valid. Results are updated every minute.