Why Khloé Kardashian hosting the X Factor USA is a terrible idea
Adam Postans argues why it's a bad idea for Khloé Kardashian to host the X Factor USA live shows.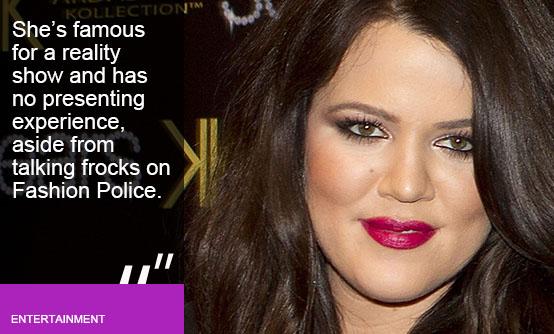 I'll be the first to hold up my hands and admit it. Keeping Up With The Kardashians can be an entertaining TV show.


I know, you don't have to tell me. It's trash with a capital T. But it does exactly what it says on the tin. You know what you're getting. And it is difficult to argue with seven series, at least two more in the pipeline, plus four spin-offs.

But forget Keeping Up With The Kardashians. I'm struggling to keep up with all the comings and goings on The X Factor USA, culminating in today's announcement of the two new co-hosts.

Yes, folks, it was almost written in the stars, a collision of reality TV galaxies that was destined to smash together one day, like particles in the Large Hadron Collider, in a super-vacuum moment of creation.


                          "She's famous first and foremost for a reality show"


Simon Cowell and the Kardashians are together on one programme at last. Well, Khloé Kardashian anyway.

She has been confirmed as the presenter of the live shows which begin in November, alongside Mario Lopez who not many people this side of the pond will be familiar with (fans of Saved By The Bell excepted, of course). He is, though, a star in America and has a pedigree both in acting and hosting entertainment television.
                      "You have to wonder what Simon Cowell is thinking"


Khloé, on the other hand, well, her Wikipedia page describes her as: "Businesswoman, television personality, radio host, socialite, and model," all of which is pretty meaningless (her businesses include a clothing boutique, a teeth whitening pen, fake tan, a fragrance, and, quelle surprise, a book) and certainly doesn't qualify her to host a programme of this stature.

She's famous first and foremost for a reality show and, crucially, has zero TV presenting experience, aside from talking about frocks with Kelly Osbourne on E! channel's Fashion Police.

So when I read that on her official blog Khloé announced her new X Factor USA role with the words: "I'm a huge fan of the show so I literally fell over in my chair when I heard that I was being considered," let me reassure her, she wasn't the only one.


                 "There's a switch towards a very American-driven direction"

You have to wonder what Simon Cowell is thinking. The fact he previously stated he was looking for a male and female duo at the helm is at least consistent with today's signings and also with series one which was set to be co-hosted by Nicole Scherzinger and Steve Jones, until Cheryl Cole was given the heave-ho and replaced on the judging panel by Scherzinger, leaving Jones as the sole presenter.

Jones's departure after the first run seemed harsh to me. I don't think he did badly at all and he looked the part. The star-spangled pair taking over from him certainly indicates a switch towards a very American-driven direction, which is obviously fair enough for an American audience.

Yet I can't help but feel that the choice of Khloé Kardashian reveals that having some female eye candy to front the show has been a priority for Cowell, over and above the requisite skills.

It's just a guess but maybe, because LA Reid is clearly his intellectual equal and, for me, the best judge, Simon Cowell will look comparatively smart with a Kardashian on stage. Mind you, a bagel would probably hold its own.

                  
                    "Ryan Seacrest must be rubbing their hands with glee."


If Khloé gels with Mario Lopez to form a lasting partnership, I would be astonished.

More unsettling for viewers is the game of musical chairs X Factor USA is playing. The female half of the panel (Paula Abdul and Scherzinger) was axed after just one series, along with Jones.

It needs some solidity, time to bed-in, and for the regular faces to be just that – regular, and enduring.

I wish Khloé Kardashian the best of luck but cannot for a moment see the businesswoman, television personality, radio host, socialite, and model adding "permanent X Factor USA host" to her Wikipedia entry.

Ryan Seacrest and everyone at American Idol must be rubbing their hands with glee.

Adam Postans is a journalist and commentator on all things celebrity, showbiz, television and music. Twitter: @couchpotatoadam.

JOIN THE DEBATE - IS KHLOE KARDASHIAN A GOOD CHOICE TO HOST THE X  FACTOR USA? LEAVE YOUR COMMENTS IN THE BOX BELOW OR JOIN THE CHAT ON TWITTER #SOCIALVOICES.
Welcome to #socialvoices. This is the home of sharp writing, opinion and social debate on MSN. Jump into the comments, tweet us with the hashtag. Join in.

Are you looking forward to another Robbie Williams instalment?
Thanks for being one of the first people to vote. Results will be available soon. Check for results
Total Responses: 538
Not scientifically valid. Results are updated every minute.