We don't need another boyband
Laura Foster on why Union J copying One Direction isn't good for anyone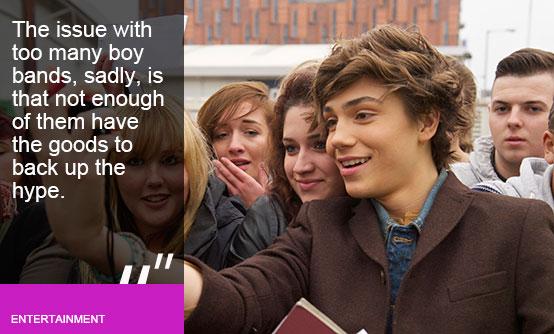 As the circus of this year's X Factor rumbles on, played out over the cacophony of Rylan's over-the-top histrionics, attention-shy judge Louis Walsh (ahem) has come out as saying that Simon Cowell is against his cute-as-a-button boy band Union J, as he sees them as a threat to the behemoth that is One Direction.
It's perhaps unsurprising that Cowell might view Union J in this way. The similarities between the two groups are there for all to see: they were both formed on X Factor, all the lads are good looking (if you're into fresh-faced cheeky chappy himbos with tousled hair), and both gained ridiculously enormous fan bases of screaming girls before they even sang a note.
And both are interminably dull.
Talk about painting by musical numbers - they are clearly One Direction Mark Two. The unfortunate thing, however, is that Union J's good looks will take them far into the competition thanks to frenzied pre-pubescent girls picking up the phone to vote for them.
What do these boys really have going for them, other than their dimpled smiles, the ability to pose and to sometimes hit the right note in a melody? Nothing. And the thing that the X Factor has done (other than fill our charts with dross) is to shine a light on how depressingly easy it can be to manufacture a talentless boy band for gullible teenage girls to swallow.
Don't get me wrong, I'm not a complete pop hater. I was thrilled when Little Mix won last year; they clearly deserved it. The four girls have an interesting image, are clearly talented, and have great personalities. Their vocal harmonies were impressive on the show, and I loved the way that they spoke out against bullying.
There's always room for a talented act that brings something new to the table, and so I was also a fan of JLS on the show - a band whose vocal abilities (and dancing and performance skills) were clear for all to see. They're not my cup of tea, but credit where credit's due. I feel they deserve their current success.
The issue with too many boy bands, sadly, is that not enough of them have the goods to back up the hype. It looks like Union J will be striding towards the X Factor final purely on the basis of their image, rather than their talent. And it is this (along with the fact that they offer absolutely nothing new to the heady world of the music charts) that I take umbrage with.
There is one thing that hopefully stands in our favour in preventing yet another interminably unoriginal boy band from tarnishing our charts, however: Louis Walsh himself. The judge has never won X Factor, and while he can claim success for bringing (yawn) Westlife and Boyzone to the world's attention, as well as managing Girls Aloud in their early career, the man is clearly a buffoon.
Here's hoping the girlie clamour for Union J dies down over the ensuing weeks to save us from further pop-related frustration.
(Ella to win, by the way.)    

Laura Foster is a social commentator and music journalist who has written for NME, Q Magazine, Dazed & Confused and more. You can follow her on Twitter @laufoster

DO YOU THINK WE ALREADY HAVE ENOUGH BOYBANDS? LEAVE YOUR COMMENTS BELOW. JOIN THE DEBATE ON TWITTER WITH THE HASHTAG #SOCIALVOICES

DO YOU WANT TO JOIN #SOCIALVOICES? WE'RE LOOKING FOR NEW WRITERS
Welcome to #socialvoices. This is the home of sharp writing, opinion and social debate on MSN. Jump into the comments, tweet us with the hashtag. Join in.

Are you looking forward to another Robbie Williams instalment?
Thanks for being one of the first people to vote. Results will be available soon. Check for results
Total Responses: 538
Not scientifically valid. Results are updated every minute.