Nick Grimshaw's Radio 1 appointment is good for British music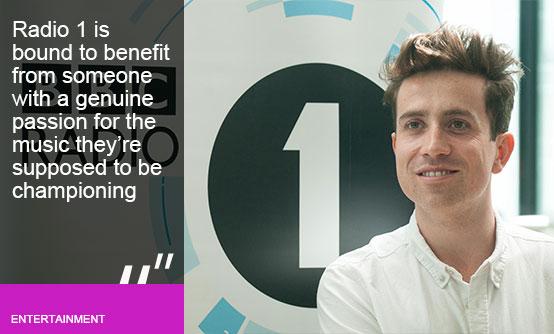 And now, the end is near, and so he faces the final curtain… yes, it's the final week of the Chris Moyles Radio 1 Breakfast Show.
Listeners, of course, wouldn't have been able to get past this fact, what with the three-minute-long farewell jingle they've been playing at the start of the show.
Talk about milking it!
I will be sorry to wave goodbye to Moyles and his breakfast crew – their chirpy voices have become familiar to the nation over the last eight years, and he has a very broad listener base.
But change can only be a positive, especially for Radio 1, a station that is always looking forward and is supposed to focus on 15-to-29-year-olds.
As Moyles and his team have got older, so too has his listener base, and that's something the BBC is aiming to address with the appointment of Nick Grimshaw, promoted from his current 10pm-to-midnight presenting slot.
There is a lot to be excited about with the imminent arrival of Grimmy in the mornings. The new ascendant to the throne is a genuine music fan. 
Over the years I've spotted him at numerous festivals, not just hanging out with his bevvy of famous friends, but also checking out the performances of established and new acts alike. Radio 1 is bound to benefit from someone with a genuine passion for the music they're supposed to be championing.  
He also has a strong opinion of what music he likes and doesn't like, something that will no doubt appeal to a younger audience, who appreciate passion when they see or hear it.
Grimshaw has already said he intends to play twice as much music as Moyles – between eight to 10 songs an hour. With success comes self-indulgence. And there is a LOT of talking in the Chris Moyles show: a mere four to five songs are currently played every hour.
They certainly like the sound of their voices.
This increased chance of exposure has the record labels rubbing their hands in anticipation.
The only real question mark hanging over Grimmy's head is how he's going to handle the crushing early starts in the morning. He may be used to being up at 6am, but by his own admission, it's usually when he's leaving a club.
But I have no doubt as to his abilities. As Radio 1 controller Ben Cooper said at the time of the appointment, 'Nick is a great broadcaster with a passion for music and a mischievous sense of humour, which has made him a hit with our listeners. He will be an excellent host for Radio 1's new breakfast show, bringing a new generation of listeners with him.'
Laura Foster is a social commentator and music journalist who has written for NME, Q Magazine, Dazed & Confused and more. You can follow her on Twitter @laufoster

DO YOU THINK NICK GRIMSHAW WILL BE GOOD FOR RADIO 1? LEAVE YOUR COMMENTS BELOW. JOIN THE DEBATE ON TWITTER WITH THE HASHTAG #SOCIALVOICES

DO YOU WANT TO JOIN #SOCIALVOICES? WE'RE LOOKING FOR NEW WRITERS
Welcome to #socialvoices. This is the home of sharp writing, opinion and social debate on MSN. Jump into the comments, tweet us with the hashtag. Join in.

Are you looking forward to another Robbie Williams instalment?
Thanks for being one of the first people to vote. Results will be available soon. Check for results
Total Responses: 538
Not scientifically valid. Results are updated every minute.