Frank Ocean's coming out is a landmark moment for urban music
Finally, it seems we have an 'out' urban music star, writes Musa Okwonga
Author: Musa Okwonga
So it appears that Frank Ocean, the R&B star, is either gay or bisexual. In a brave, candid and moving post on his Tumblr account, Ocean revealed that he had fallen in love with a man a few years ago, feelings that after some time he had now come to accept.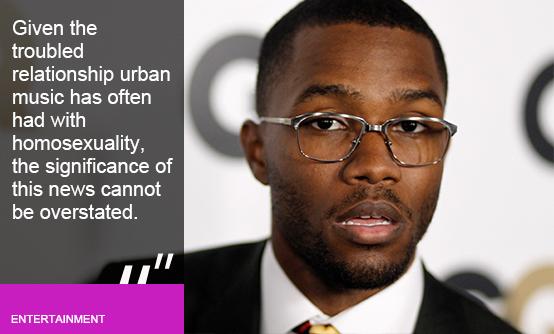 Given the troubled relationship that R&B and hip-hop have often had with homosexuality and bisexuality, the significance of this news cannot be overstated. 
Ocean is arguably the most innovative young artist in his field, with a consistently startling take on love, abandonment and loss, and at the age of only 24 has produced two songs – Novocane and Swim Good – which are already regarded as classics.
He is yet to release his solo album, due in mid-July, and has already collaborated with Kanye West and Jay-Z.  He is therefore one of the first leading African-American male artists to have made such a revelation about his private life.

As a black man, the pressure to appear straight in the urban music industry is often overwhelming.  Many of Ocean's predecessors, most notably Luther Vandross, spent their entire lives deflecting questions about whether they really did only have eyes for the ladies.

Commercially, such stars may have thought it prudent to remain in the closet.  After all, a black male R&B singer has traditionally relied to a large extent on the fact that a woman can fantasise about being with him.  If he's bisexual, that's a slightly more awkward concept for many females to handle; and if he's gay, that romantic option, faint as it ever was, moves entirely off the table.
But still: why such a fuss that Ocean is gay or bi?  Well, that's thanks to a curious cocktail of homophobia. On one hand, some black men have upbringings where they are forged in the unfettered fires of evangelical Christianity, with its apocalyptic emphasis on homosexuality as an abomination. 

On the other hand, they are mythologised, both in their own music videos, and in the wider world, as masters of heterosexual conquest (and, by that same token, unparalleled misogynists).
Of course, homophobia is not the sole preserve of African and Caribbean communities – same-sex intercourse is still illegal in about a third of the world's countries – but its religious element, shamefully fuelled even today by American missionaries, has given it a particularly virulent character.
One of the more startling elements of this story is that Ocean first emerged from the Odd Future collective, whose rap lyrics are famous for their homophobic content.  Tyler the Creator, the leader of said collective, tweeted his support for Ocean this morning, writing that "My Big Brother Finally F***ing Did That.  Proud Of That N*gga Cause I Know That S**t Is Difficult Or Whatever.  Anyway. Im a Toilet."
This was a touching if somewhat colourfully-expresse​d sentiment, which sits somewhat oddly with Tyler's use of the word 'f*ggot' and other such insults over 200 times on his solo debut, Goblin. 
Many fans of Tyler's work have defended his use of such words as merely ironic, pointing to the fact that another member of Odd Future, the DJ Syd the Kyd, is openly lesbian.  This irony is possibly of small comfort to the countless children who may have found themselves as the targets of playground taunts inspired by Tyler's hair-raising rants.
The true irony in all this relates to a perception of gay and bisexual men that sadly endures in many minds; a perception of being weak, or somehow unmanly. Yet almost any gay or bisexual man who has ever acknowledged his attraction to his own gender will know some fraction of the terror that Frank Ocean will have felt before making his confession. 
He will identify readily with Ocean's initial horror and helplessness at the man that he would one day joyfully become.  Any gay or bisexual man will also know that, as long as he lives, there will probably be no greater test or affirmation of his manhood than the acceptance of who he truly is.

Talk will inevitably turn to whether Ocean's openness will adversely affect his career, but there is every reason to be optimistic.  In recent months, Jay-Z, a serial offender with regards to casual homophobia in his lyrics, has publicly given his support for gay marriage; meanwhile, Beenie Man has taken to YouTube to apologise for the bigoted content of much of his back catalogue. 
These are indeed changing times, and it may be that Ocean leads the way for others like him to come forward.

However, there is still no room for complacency.  Mainstream rap, R&B's younger, brasher cousin, has been resistant to change.  Recently Bashy, the successful UK rapper, ruined an otherwise memorable turn on the remix of Scorcher's It's All Love by rhyming, "I don't mess with them dicks/'Cause that would make me a f*ggot". 
Kanye West voiced his support for gay people, only to mitigate that somewhat by using the words "No Homo" in a later collaboration with Jay-Z and Rihanna in Run This Town. 

In both cases, these rappers met with minimal censure, in public at least, from their peers or the media; whether they were being wholly ignorant or wilfully offensive, the widespread lack of reaction was telling. 
Fortunately there is greater hope from the mouths of some of the younger generation, such as Nicki Minaj and A$AP Rocky, who have both denounced anti-gay prejudice in hip-hop.

In the meantime, though, Frank Ocean should be just fine.  He has a vast following on Twitter which should pass 1 million by the turn of this year, if not this month.  Judging by his heartfelt note, he has the love of his closest friends and family. 

Most importantly, he is free to move forward with his life, unencumbered by doubt and self-loathing.
This will mark an explosion in his creativity, which is very bad news for those equally young pretenders who would like to compete for his songwriting crown. 
All of us who have taken that long journey of the closet will know that to live a life of such fear and self- repression is to live firmly in second gear.  Well, watch out, world: because Frank Ocean is about to accelerate.
Musa Okwonga is a social commentator and poet for electronica outfit The King's Will. You can follow him on Twitter @Okwonga
DO YOU THINK FRANK OCEAN'S COMING OUT IS A GOOD THING FOR URBAN MUSIC? LEAVE YOUR COMMENTS BELOW. JOIN THE DEBATE ON TWITTER WITH THE HASHTAG #SOCIALVOICES

DO YOU WANT TO JOIN #SOCIALVOICES? WE'RE LOOKING FOR NEW WRITERS
Welcome to #socialvoices. This is the home of sharp writing, opinion and social debate on MSN. Jump into the comments, tweet us with the hashtag. Join in.

No tweets available. Please try again later
Are you looking forward to another Robbie Williams instalment?
Thanks for being one of the first people to vote. Results will be available soon. Check for results
Total Responses: 538
Not scientifically valid. Results are updated every minute.