Nicole Scherzinger is the saviour of X Factor 2012
by Adam Postans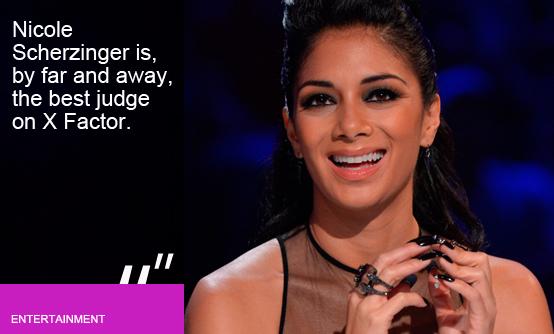 There are a handful of sentiments I never expected to be thinking without any trace of sarcasm until just a few weeks ago.
"Channel 4 did a tremendous job televising the Paralympics."
"That Lisa Riley, on Strictly Come Dancing, can really cut a rug."
And: "Nicole Scherzinger is by far and away the best judge on The X Factor."

That last one in particular is, for me, the most startling surprise of all.
Remember the 2012 series auditions? She was almost edited out of them entirely, and when she was featured, my worst fears were realised; she came over as the predictably timid and lame wallflower who wouldn't say boo to a goose (if that's not mixing too many metaphors).
Her days also looked numbered here.
She had no bite, no edge... no nothing, really. Nicole was doing no better than her feeble performance on X Factor USA. She was dropped after one series, with Simon Cowell shipping her over the Atlantic.
Her days also looked numbered here. I, and much wiser people, was calling for her to be replaced by acerbic stand-in Mel B, of the Spice Girls, who tore shreds off the hopeless while reserving praise for the best auditionees.
So it is something of a shock now, after only three live shows, to be completely reversing my opinion of the ex-Pussycat Doll.
I don't know who's had a word with her, what was said, or if the criticisms made her sit up by herself and take notice. But you can pretty much press the Sky x30 fast-forward button, assuming you have that option, whenever Gary Barlow and Tulisa are giving their critique.
Gary has got the tone completely wrong. He's uptight, pompous and seems oblivious to the fact that The X Factor is supposed to provide entertainment on a Saturday night, and I say that as somebody who can't stand the sight of Rylan Clark.
Instead, he continues to believe the likes of Melanie Masson, Christopher Maloney and Kye Sones are global megastars in the making, and grumps around the studio throwing his toys out the pram when it doesn't go his way.
Tulisa's body language seems to suggest she doesn't want to be there anymore. The girl sounds like she's fed up to the back teeth of it all.
That pair needs to be replaced if the show wants to claw back the ever-growing ratings lead fierce rival Strictly Come Dancing has established.
I'd leave Louis Walsh on the panel; the show would be weaker without his daft comparisons and unintentional moments of comedy.
But it's Nicole Scherzinger who has, to coin the old reality-show cliché, gone on a journey.
She's found a welcome touch of feistiness
According to reports, Cowell believes her quirky style is worthy of the title "head judge". Perhaps there's something about his old seat on the far left of the table; it seems to have brought out the best in her.
She's found a welcome touch of feistiness and isn't bashful to tell the acts how it is, something she does with what I'm staggered to say is some authority and knowledge.
Yet she strikes that tricky balance of being critical but likeable, as well as complimentary but hard-nosed. Take it from me, that's not easy.
Nicole has no difficulty putting Gary and Louis in their place and has had Dermot O'Leary blushing with her apparent obsession with "big balls". She'd probably love Total Wipeout in that respect.
I don't agree with her all the time - such as when she described Kye's flu-hampered ballad at the weekend as "epic", but her one-liners are witty without seeming scripted.
In fact, I'll even forgive her one thing – taking Rylan through to the live shows.
Well, maybe some day. One step at a time, Nicole, eh? One step at a time.
Adam Postans is a journalist and commentator on all things celebrity, showbiz, television and music. Twitter: @couchpotatoadam.

JOIN THE DEBATE - IS NICOLE SCHERZINGER THE BEST THING ABOUT X FACTOR 2012?
LEAVE YOUR COMMENTS IN THE BOX BELOW OR JOIN THE CHAT ON TWITTER #SOCIALVOICES.
Welcome to #socialvoices. This is the home of sharp writing, opinion and social debate on MSN. Jump into the comments, tweet us with the hashtag. Join in.

Are you looking forward to another Robbie Williams instalment?
Thanks for being one of the first people to vote. Results will be available soon. Check for results
Total Responses: 538
Not scientifically valid. Results are updated every minute.