Kanye West's actions don't match his words
We shouldn't take Kanye West's musings on the appropriateness of certain words too seriously, argues Musa Okwonga...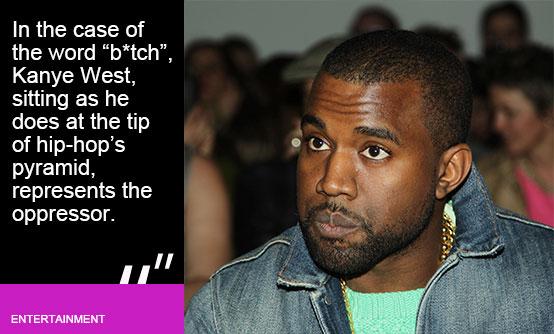 Kanye West has done it again.  The multi-Grammy Award-winning musician is now as renowned for his serial sensationalism as for his genius, and last night on Twitter he was on typically compelling form. 
"I usually never tweet questions", he typed, "but I struggle with this so here goes…Is the word B*TCH acceptable?"  He continued: "To be more specific, is it acceptable for a man to call a woman a bitch even if it's endearing?" 
Some moments later, after a stream of similar musings, he considered that "perhaps the words B*TCH and N*GGA are now neither positive or negative.  They are just potent and it depends on how they are used and by whom?" 
He concluded by posting a link to the latest video by Lupe Fiasco, "B*tch Bad", which makes a thorough examination of the word and the reasons for its usage.

Several have congratulated Kanye West merely for raising awareness of misogyny in hip-hop.  I find it very difficult to be so generous, particularly because the problems are so obvious as to be apparent every day. 
However, he does deserve credit for asking specific questions to address these problems.  Again, though, it is very difficult to think of examples where a man could call a woman a b*tch in an endearing context. 

That said, West makes a crucial point.  In the case of "n*gga" – a word recognised as so ugly that it is routinely asterisked and referred to as the N-word – he can argue, if somewhat unconvincingly, that he and his peers use it to redefine its meaning from that intended by racist oppressors. 
In the case of the word "b*tch" – a word which regularly escapes the censure of asterisks, and which you rarely if ever hear called "the B-word" – Kanye West, sitting as he does at the tip of hip-hop's pyramid, represents the oppressor. 
Any occasion on which he uses this word should therefore, at best, be viewed with the deepest suspicion. 

The key question is whether Kanye West is truly committed to social progress in this case, given how inconsistent he has been on other occasions. 
Previously, he spoke out in support of gay people; but then proceeded to undo much of that work by using the derogatory "no homo" lyric in his collaboration with Jay-Z and Rihanna, "Run This Town". 
Then again, Kanye West's career to date has always been one where he has waved his listeners away from the paths of narcissism and self-destruction, and then proceeded to charge down them himself. 
On that logic, then, we should heed his call to be wary of the word "b*tch": we just shouldn't expect him to stop using it anytime soon.
Musa Okwonga is a social commentator and poet for electronica outfit The King's Will. You can follow him on Twitter @Okwonga

LEAVE YOUR COMMENTS BELOW. JOIN THE DEBATE ON TWITTER WITH THE HASHTAG #SOCIALVOICES

DO YOU WANT TO JOIN #SOCIALVOICES? WE'RE LOOKING FOR NEW WRITERS
Welcome to #socialvoices. This is the home of sharp writing, opinion and social debate on MSN. Jump into the comments, tweet us with the hashtag. Join in.

Are you looking forward to another Robbie Williams instalment?
Thanks for being one of the first people to vote. Results will be available soon. Check for results
Total Responses: 538
Not scientifically valid. Results are updated every minute.